You are here >> Vita
Vita
Uwe Volk
Head of Business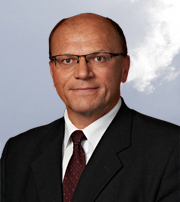 After his studies of business administration with focus on materials management/logistics and organisation/information systems, Mister Volk started his professional career in a renowned management consultancy, in which he developed and realized organisational concepts in various types of industrial companies and tasks.


In the following years, Mister Volk took over responsibility as CIO for the built-up and expansion of ORG/IT departments, on strategic company objectives oriented implementation and further development of
IT- and Communication solutions as well as the optimization of business processes focused on the future requirements and developments.


During his many years of experience as management consultant, Mister Volk was in different functions, among other things, as Business Unit Manager and Managing Director responsible for the leading and building of Business Units, the development of business and industry solutions as well as lead generation and customer care.

Mister Volk has an extensive and profound know-how in the automotive supplier industry,
the machinery and plant engineering, the consumer and food industry as well as in the manufacturing industry in general and worked in a large number of national and international projects addressing strategic, organizational or operational questions in the field of IT and business process management.

In 2012 he founded Volk Management Consulting with the intention to utilise his experiences in a new environment even more specifically and individually for his customers.